After "Sundown" Gordon Lightfoot makes up for lost time, by Nancy Naglin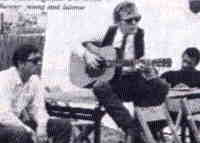 "I am not overweight and I am definitely not an alcoholic," he says defending his right to drink (and to a fair interview). "All I've been eating lately is papaya juice and lecithin." He gained twenty-five pounds after Sundown , but he has lost it now. He is slender, thin-legged and rather athletic-looking. "I'm thirty-five," he says loudly and without defenses. " I may have out on a few pounds and a lot more characterů.

"I like to drink wine when I eat," and until the lobster thermidor arrives, he haltingly questions the difficulties of man/women relationships. "Most of the relationships I have been in have failed," he says candidly. "My personal life leaves something to be desired, but I'm trying to get it together now."

The table is an unassuming spot in a darkened, half-empty room. The waiters know him and leave him alone. He fidgets with his prescription sunglasses, yet he doesn't take them off. He relaxes over a few drinks in the hearty-hail-fellow manner of a guy who has spent a lot of time in the local tavern. Like a lot of people who have worked hard all their lives, he has based his life on the belief that efforts can be guaranteed, but not results. He impresses you as the kind of person who still believes in the UN as a viable institution. He has that anesthetized Canadian belief in the brotherhood of man, and like a lot of Canadians, regardless of class or background, he says Negroes when he means Blacks.

"I'd like to make up for some of the lost time on the personal side. I take a month or five-week holiday off every year. The rest of the time I spend looking after my music. I write my songs and book my concerts. I've been in two heavy relationships and they've failed." The thing that most distresses him is the media's connection between what seems to be over-night success and the final proceedings of his divorce. He has been separated from his wife since 1970. "My former wife and I realize what we had to do and we got it done, and it's nobody's business. I'm sick and tired of it and so she is. We're friends."

Across the room a media groomed businessman, of a kind Lightfoot would have been if he were working for Bell Canada, is wining and dining a tall, long-haired, blonde woman. Intent on recollection, Gordon doesn't notice. He quotes the opening my teens. I must admit I was pretty wild in my twenties, too. I think I'm still running a little bit wild." He has a convenient way of explaining how he gets away with doing what he wants. "It's the business that does it to you." What Lightfoot has experienced is a change of life without the awareness or ability for a change of heart.

"One thing I know. When you're greedy to outgrow that period in your life when you want to go out with different people, you make a decision. If you're going to make a commitment to a permanent relationship, and there's going to be children involved, you should at least be willing to make a commitment to fidelity. It seems that people can't sustain a romantic figure nowadays. They feel that when the romance has died they're actually deceiving themselves. There must be something between a man and woman besides being just lovey-dovey. The sexual part of it definitely runs up to a peak and then levels off. Everybody knows it.

"I find it real difficult to come to terms with the idea of setting down with one person for rest of my live. I don't think I'm ever going to get married again, and if I was to do it, I think I'd wait until I was forty. When you're away from the woman, continually confronted by other women, you suddenly find yourself in a weak moment. Then you've gone and stepped over the traces and you gotta go home and confront your old lady. It's a two-way street. You're going to have to offer her the same deal. You can't ask the woman to be faithful if you're not going to be faithful to her. That's where it's broken down for me twice." And by this time the man across the room has finally managed to land a hand on his date's leg.