After "Sundown" Gordon Lightfoot makes up for lost time, by Nancy Naglin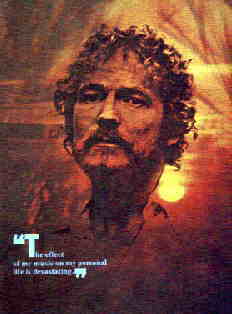 The publicity surrounding his divorce (the most expensive settlement in Canadian history) has made him more than a little sensitive about his finances. "I'm not in the category of being a very rich man, by any stretch of the imagination. By the time it's all over and everything paid for and the donations made, you end up with a certain small percentage, like any type of operation."

Possibly more than anything else, he is proud of having learned to deal with American sharpies." They are very astute people," he says, pointing to a picture of a fat and contented-looking Albert Grossman on the wall. "I was able to sustain myself through enough years to get hip to learn how to handle my own business affairs. You have to have a good business head to a certain degree or you're simply going to get burned, and that's all there is to it," To hear him talk, you would think he was running a corner grocery. "In show business you have to account for every penny you make." Substitute dry cleaning or haberdashery and you have a measure of the constraints and influences that shaped him.

Yonge Street, Toronto's main drag, may be massage-parlored, but Torontonians expect jay-walkers to pay their fines. "There is no way you mess around with the income tax department," Lightfoot says, adjusting two miniature ship models on his desktop. He is quick to point out that Early Morning Productions, his publishing and producing company, "is a company formed under the laws of our country. Simply, it produces me. I Publish all my own material." And he "presides" over a close-knit circle of family and friends. Sister Bev is his personal secretary. Terry Clements, bass player Rick Haynes and a new steel player, Pee Wee Charles, back him on tour. Jim Gordon, John Stockfish and Pee Wee Charles play on his albums. "Most of these guys are family men. They're an affable group you can get along with." If he makes a big deal out of looking after every detail (including bills of upwards of $100,000 a year for the rental of a private jet), it's because he's proud of running what amounts to a specialized international business.

An American in his position would have some nasty words about IRS, or at least a few foul epithets for the government. Lightfoot is uncomfortable or bored, or maybe both with his obligatory Watergate remark. He has these nicely ingrained Ontario virtues. He may fool around in his personal life but he's never done a reckless thing with his career. He would never be a raver in the American sense because he never had to consider what to do with draft card. He is justifiably proud of being Canadian, in the self-effacing, mindless way Canadians have of acknowledging their nationality; proud of having received The Order of Canada and proud of having been invited to the Trudeau residence. He's the small-town boy who has made it big all over the world, but in the middle of a discussion about fall engagements, his sister reminds him of a family engagement at Uncle Ted's. There is no apparent dichotomy.

"I like to live frugally and I don't dress fancy," he says opening the door to his late-model Buick Riviera. He points to the stitched inseam of his faded, black bell-bottom chinos, the kind he might have worn when he was driving a laundry truck for his Dad. "And I'm not a star. I don't even like that word. I'm like everybody else, except maybe more fortunate."

Ironically, one of his favorite luncheon restaurants is right around the corner from the Riverboat. Ten years ago, Yorkville was a gently artistic but moldering collection of period houses dating from the last century. Today, nearly every building has been renovated. Production companies and architectural firms have their offices in remodeled garrets where a few years ago girls, similar to the one of Lightfoot sang about in "Bitter Green," were smoking dope and worrying about missing their periods.