After "Sundown" Gordon Lightfoot makes up for lost time, by Nancy Naglin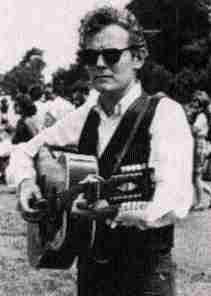 Lightfoot talks shyly in the confidential, racounteur-style of a small-town boy. He drops the endings of his words and punctuates his sentences with that Canadian "eh." He uses old-fashioned expressions like countenance when he means face. No matter how involved he gets in talking about himself, he doesn't let anything slip away. "I want to keep my personal life out of this."

He says he remembers singing himself to sleep before he could walk. His mother, whom he credits for recognizing his talent, schooled him into a successful child performer. By the time he was appearing regularly on local radio shows and singing in church choirs. "I wish I could sing as well now as I did when I was ten. I was really an excellent boy soprano." When Americans of his generation were lusting after a big Buick or the corner of Burger Queen, he was acting in high school productions of H.M.S. Pinofore. Later, in a premeditated but cautious decision about a musical career, he studied orchestration at the Westlake College of Modern Music in Los Angeles. The fact that he learned to read and write music and can arrange his own songs ("It takes too much time and I'm lazy") accounts somewhat for that layered Lightfoot sound. Back in an older part of Toronto called Yorkville, he latched onto a street scene which was just then developing into a Canadian version of Haight-Ashbury. (In retrospect, there was a folk scene happening, but at the time nobody knew it.)

He was playing Yorkville's less famous and now forgotten coffee houses while Joni Mitchell, Buffy St. Marie, Leonard Cohen and Ian & Sylvia were making it in the Riverboat up the street. He spent three years playing back and forth between Steele's, al lounge that catered to a regular drinking crowd, and the still-famous Riverboat. "It got to the point where I could hold the attention of a bar crowd. That's when I had the feeling I had something to say."

At Steele's, in 1964, Ian Tyson heared him play "For Lovin' Me" and "Early Morning Rain." At the time, Albert Grossman (who had just signed Bob Dylan) was managing Ian & Sylvia as well as Peter, Paul &Mary. Paul Yarrow recorded "For Lovin' Me," and fortunately it was a hit. A few months later, John Court, Grossman's Partner, came to Steele's and signed Lightfoot to United Artists. (In 1969, when his contract with UA expiredm he switched to Warner Brothers.)

Meanwhile, he started to appear on Canadian TV country & western shows. "They could have been called Rancho Vegas, or something like that. I was paid to scale and I worked for peanuts." He did all kinds of music - "Carousel," "Annie Git Your Gun" and a few folk tunes. He even performed as part of a square dance ensemble with the maizy name of "The Singing Swinging Eigthts."

His talents have been constantly and consistently understated; methodical but never manic in the progress of his art. "I was a slow starter," he says, despite a string of thirteen Gold Lead Awards honoring distinguished Canadian musical figures; eighth of his ten Lp's have sold more than 100,000 copies apiece in Canada; a platinum record for "Early Morning Rain" and Sundown; and the red-hot Cold on the Shoulder. "I've been committed to it since the time I was a child, and for the whole twelve years that I struggled I never flagged that I could make a decent living at it. I don't thin there are any breaks. If you've got the wherewithall and the desire to play in those places, and if you get your act together, well, the rest is paid rehearsal. Mostly it's work, with a little personal life on the side."